VENERDI' SANTO A SAVONA LIGURIA ITALY
18 APRILE 2014 ORE 20.30 – 23.00
LA TRADIZIONALE PROCESSIONE DEL VENERDI' SANTO
Carissime amiche e amici LETTORI DEL SITO www.assurbanipal.net
,sinceri auguri per una Pasqua serena nella pace dell'anima.

Da Savona la tradizionale processione del venerdì Santo, importante realtà di origine medioevale con quindici gruppi lignei ( detti casse ), pesantissime opere dal seicento al novecento raffiguranti la passione di N.S. Gesù Cristo .
Le casse sono portate a spalla da confratelli vestiti con ta tradizionale CAPPA, accompagnati da corali e complessi orchestrali.
Una grande emozione Assurbanipal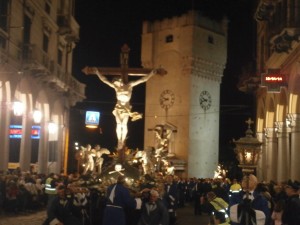 VENERAZIONE E CONSACRAZIONE NEL SILENZIO MEDITATIVO
TRADIZIONE SECOLARE NOBILI E POPOLO SENZA DISTINZIONE DI CLASSE
LA PROCESSIONE MEDIOEVALE SI TIENE OGNI 2 ANNI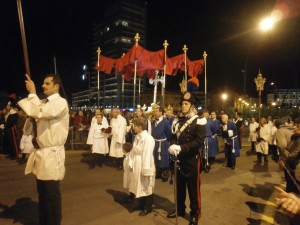 ORTO DEI GETSEMANI
Ognuno ha il proprio orto
con quattro ulivi pieni di storia
umanità calpestata dalla tirannia
nel borgo nascosto della nostra anima……
dopo aver attraversato molte strade insidiose
raggiungi la meta finale
misericordia e solitudine
disprezzo e abbandono
dagli AMORI sanguigni più cari
nullità esistenziale nella luce spenta…..
per rinascere dentro  la nuova nuvola abbagliante
dell'esistenza senza tempo!
VERSO IL NULLA DOVE TUTTO INIZIA E TUTTO TERMINA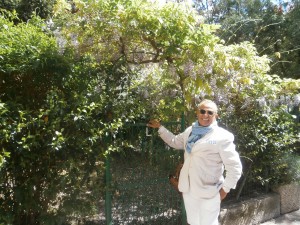 GARDEN OF GETHSEMANE
Each has its own vegetable garden
with four olive trees full of history
trampled humanity from the tyranny
village hidden in our soul ……
after going through many treacherous roads
reach the final goal
mercy and loneliness
contempt and neglect
existential nothingness in the light off …..
to be reborn in the new dazzling cloud
existence and timeless!
INTO THE VOID WHERE IT ALL BEGINS AND ENDS ALL
ASSURBANIPAL
Scritto a Savona 20 aprile 2014 ore 22.45
PASQUA DI RESSURREZIONE