PROGETTO REALIZZATOAL DAY HOSPITAL ONCOLOGICO PEDIATRICO BOLZANO -BOZEN ITALY SOUTH TYROL
A volte la vita riserva sorprese ,ti pone nel tempo presente con il suo dubbio esistnziale, protagonista di momenti carichi di forza creativa e progettualità,ti accorgi di quanto tutto sia fugace e superfluo specialmente quando non sei in grado di dare delle spiegazioni a chi le chiede…..così è nato il progetto creativo sviluppato nel reparto oncologico…
IL PUNTO INCONTRA LA LINEA
LA RETE
VERSO LO SPAZIO.
LA SCUOLA DAY HOSPITAL ONCOEMATOLOGICO
Istituto comprensivo Bolzano 1
Coordinamento prof.Lino Palmisano – maestro Paolo Liani
IL LAVORO COOPERATIVO
" COOPERATIVE LEARNING PRESSO IL DAY HOSPITAL ONCOEMATOLOGICO BOLZANO -BOZEN"
Un gruppo motivato e sereno…….
INTRODUZIONE
Oggi viviamo in un mondo in rapida trasformazione, caratterizzato dallo sviluppo scientifico – tecnologico dominato dall'elettronica e dalla tecnologia dell'informazione.
Tale sviluppo stà cambiando il modo di produrre, il lavoro condiziona ampiamente la vita di tutti noi, ne varia il ritmo e comporta nuove abitudini, nuove possibilità di espressione.
E' quindi indispensabile, vorrei dire obbligatorio, dare ai ragazzi IN DIFFICOLTA'delle conoscenze, degli strumenti e delle competenze che consentono di osservare, conoscere, comprendere, analizzare la moderna realtà e il complesso rapporto di interdipendenza con l'uomo e l'ambiente, territorio.
La scuola è orientativa e formativa, deve indicare un percorso e dare degli strumenti critici e obiettivi ANCHE IN SITUAZIONI estremamente complicate e difficili, partendo da questi presupposti .
Sviluppo del progetto in sette punti:
1 – capacità di osservazione e di analisi dei processi della manualità, della manipolazione, della progettualità;
2 – capacità di raccogliere e di interpretare i dati e proporre strategie nuove;
3 – capacità di valutare e comunicare i risultati utilizzando il linguaggio appreso attraverso lo scambio di vedute nel lavoro ;
4 – capacità di applicare le conoscenze acquisite;
5 – capacità di cogliere i rapporti tra l'uomo e l'ambiente;
6 – capacità di proporre situazioni diverse, metodi costruttivi,prodotti finiti diversi;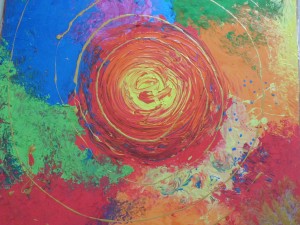 7 – consapevolezza di appartenere ad un gruppo scuola diverso, insegnanti, medici, infermiere, genitori, psicologa una vera squadra motivata, capace di combattere proponendo strategie educative fuori da qualsiasi schema
MI pice creare
Mi piace sognare
Mi piace vivere
Mi piace correre nel vento
Mi piace perdermi nell'infinito
Mi piace ascoltare il silenzio
Mi piace il mare
Mi pice vivere…
Derry e SOFIA
Proposta operativa con tecnica di pittura acrilica su foglio da disegno e legno compensato da 4 mm. e materiale riciclato
La casualità del colore nell'attimo della miscelazione e della scelta secondo un lieve momento di riflessione…
Pittura acrilica: La tecnica della pittura acrilica risale a pochi decenni anni fa. Di pronto e di una notevole lucentezza, i pigmenti acrilici non sono altro che tempere scremate, solubili in presenza di acqua, che al posto dei leganti di tipo organico, hanno agglomeranti del tipo sintetico a base acrilica, dalla quale prendono il nome.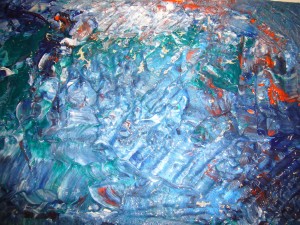 Recentemente, questa, è diventata una delle tecniche più impiegate nel mondo dell'arte pittorica, sia come complemento che in sostituzione di quella a olio.
Generalmente la pittura acrilica ha caratteristiche migliori di quelle della pittura ad olio, poiché essicca in pochissimi minuti e, quando la pittura è data per stesura, si abbreviano in modo considerevole i tempi di attesa tra una seduta e l'altra, quindi adatta per l'ospedale dove i tempi sono ridotti.
Essendo un pigmento molto più magro e meno elastico di quello a olio, è però, più soggetto ad escoriazioni. Le gamme cromatiche dei colori acrilici, comprese in più archi di tonalità, sono sempre più fredde e più povere di quelle dei colori ad olio.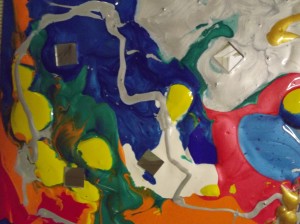 La tecnica della pittura acrilica fornisce diversi vantaggi ma, per la sua stessa natura, presenta alcuni limiti che è bene conoscere a fondo.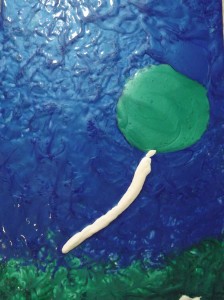 Il colore acrilico è un colore particolare. Una volta essiccato ha l'indubbio vantaggio di resistere meglio di ogni altro tipo di colore agli agenti atmosferici, alla luce e alle sollecitazioni fisiche e chimiche.
Il processo di essiccazione avviene in tempi estremamente ridotti appena il colore viene a contatto con l'aria. I colori non si prestano ad essere ripresi se non nel caso in cui gli spessori applicati sul supporto siano abbastanza elevati da consentire l'asportazione della pellicola di colore non ancora essiccata in profondità.
AI GUERRIERI APACHE
Prof.Lino Palmisano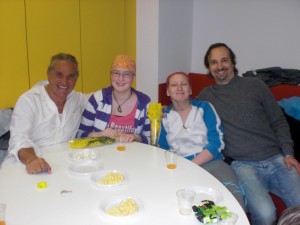 Tags:
Thu 8 Nov 2012
Posted by Assurbanipal under Poems
[12] Comments
PROJECT REALIZZATOAL DAY HOSPITAL PEDIATRIC ONCOLOGY BOLZANO-BOZEN ITALY SOUTH TYROL
Sometimes life surprises, puts you in the present time with its esistnziale doubt, the star of moments filled with creative energy and planning, you see how everything is fleeting and unnecessary especially when you are not able to give an explanation to those who asks ….. thus was born the creative project developed in the cancer ward …
POINT MEETS THE LINE
NETWORK
TO SPACE.
THE SCHOOL DAY HOSPITAL ONCOEMATOLOGICO
Comprehensive School Bolzano 1
Coordination prof.Lino Palmisano – Maestro Paolo Liani
COOPERATIVE WORK
"COOPERATIVE LEARNING DAY AT THE HOSPITAL ONCOEMATOLOGICO BOLZANO-BOZEN"
A motivated group and peaceful …….
INTRODUCTION
Today we live in a rapidly changing world, characterized by the development of science – technology dominated by electronics and information technology.
This development is changing the way we produce, work largely affects the lives of all of us, changes the rhythm and leads to new habits, new ways of expression.
E 'therefore essential, I would say mandatory, give the kids IN TROUBLE' of the knowledge, skills and tools that allow you to observe, know, understand, analyze the modern reality and the complex relationship of interdependence with man and the environment , territory.
The school guidance and training, must specify a path and give critical instruments and objectives EVEN IN SITUATIONS extremely complicated and difficult, starting from these assumptions.
Development of the project in seven points:
1 – powers of observation and analysis of the processes of manual dexterity, manipulation, the planning;
2 – ability to gather and interpret data and to propose new strategies;
3 – Ability to assess and communicate the results using the language learned through the exchange of views in the work;
4 – ability to apply the knowledge acquired;
5 – an understanding of the relationship between man and the environment;
6 – ability to propose different situations, construction methods, miscellaneous manufactured articles;
Day hospital Bolzano Creative workshop by master LINO
7 – awareness of belonging to a different group, school, teachers, doctors, nurses, parents, psychologist, a team motivated, able to fight proposing educational strategies out from any
I like create
I like to dream
I like to live
I like to run in the wind
I like to get lost in the infinite
I like to listen to the silence
I love the sea
I live pice …
Derry and SOFIA
Operational proposal technique with acrylic paint on drawing paper and plywood 4 mm. and recycled material
Creative work
The randomness of the color in the moment of mixing and the choice according to a slight moment of reflection …
Acrylic: The technique of acrylic painting dates back a few decades years ago. Done and a remarkable gloss, the acrylic pigments are nothing more than tempera creamed, soluble in the presence of water, that in place of the binders of organic type, have caking of the synthetic type acrylic-based, from which they are named.
Recently, this has become one of the techniques used in the world of painting, as a complement that replacing the oil.
Generally the acrylic paint has better characteristics than those of oil painting, since drying in a few minutes and, when the painting is given for writing, is considerably shorten the waiting time between a seat and the other, therefore suitable for the 'hospital where time is reduced.
Being a pigment much thinner and less elastic than oil, however, more prone to scratches. The range of colors of acrylic colors, including shades of extra strings, are always colder and poorer than those of oil paints.
Outpatient oncology Bolzano
The technique of acrylic paint provides several advantages, but by its very nature, has some limitations that you should know thoroughly.
flying high ..
The acrylic paint is a special color. Once dried has the undoubted advantage of withstanding better than any other type of color to atmospheric agents, to light and to physical and chemical stress.
Day hospital Onco …
The drying process takes place in an extremely reduced as soon as the color is in contact with the air. The colors do not lend themselves to be resumed if not in the case in which the thicknesses applied on media may be high enough to allow the removal of the paint film not yet dried in depth.
THE APACHE WARRIORS
Prof.Lino Palmisano
Derry and Sofia to the light ..